Hi Warpshadow community,
Since I (German) don't get much time to play in Hong Kong, I spent more and more time with creating and thinking about fluff and background. I played since Tyranids 3rd Edition continously and though new creatures pop-up and give variety to the game ... *I LOVE my pyrovores* .... the Background does not improve likewise. The codices concentrate nowadays only on some bits of history, but what about medical and research papers, Imperial guide lines for Tyranids Encounters, Prioritization charts for the soldiers? The older codices included such things. Like the Anaphelion Project was a good add-on, but since then nothing really happened and the description of the hive fleets was good until the 4/5th edition, but the 6th ed feels shallow. So ...
... this is the creation of new fluff for tyranids.
My idea is a combined report of a Magos Biologis who was tasked by Inquisitor Kryptmann. Since Administration is slow in the empire, the Magos didn't even realize what happened to Kryptmann and just continued and finished his work.
So as a starter I analysed all known creatures of the codices and categorized them by size and how they use their limbs and tails. And it created five types that can be seen in the picture I used mainly latin expressions which would be lorefriendly with WH40K:
1.
Grex
(Herds) – they use 2 limbs as weapons, 2 Limbs for movement and 2 Limbs without function (Bigger creatures use them as weapons). They cannot create psychic powers, but are huge in numbers in all sizes. (Even Hierodule are in rots of up to 3 in formations)
2.
Venator
(Hunter) – They use all 6 Limbs as weapons and use their tails for movement. They are highly specialized in their task and gave up other abilities to be perfect in their respective field. (Mostly protection)
3.
Bellator
(Warrior) – They use 4 limbs as weapons and 2 limbs for movement. They have psychic powers and from medio level perform the role of a leader.
4.
Defensor
(Defender) – They use 2 Limbs to carry a heavy weapon and 4 limbs for movement and to keep their position.
5.
Spore
– They have underdeveloped limbs and use their body to perform their task, often resulting in destroying themselves upon completion.
Some units are special mutation that are a combination of different Genestrings (notable are the new/old toxicrene and maleceptor) and some need to be explained or even adjusted to make sense (notable: Terrorfex: A Carnifex with Biomorphs for W+1 and T+1). But these adjustments should come later.
I think the Defensor type is mostly unknown, but a potential possibility. That you could create on your own, due to the lack of Models from GW. And there are more Gaps to be filled. But it is a start.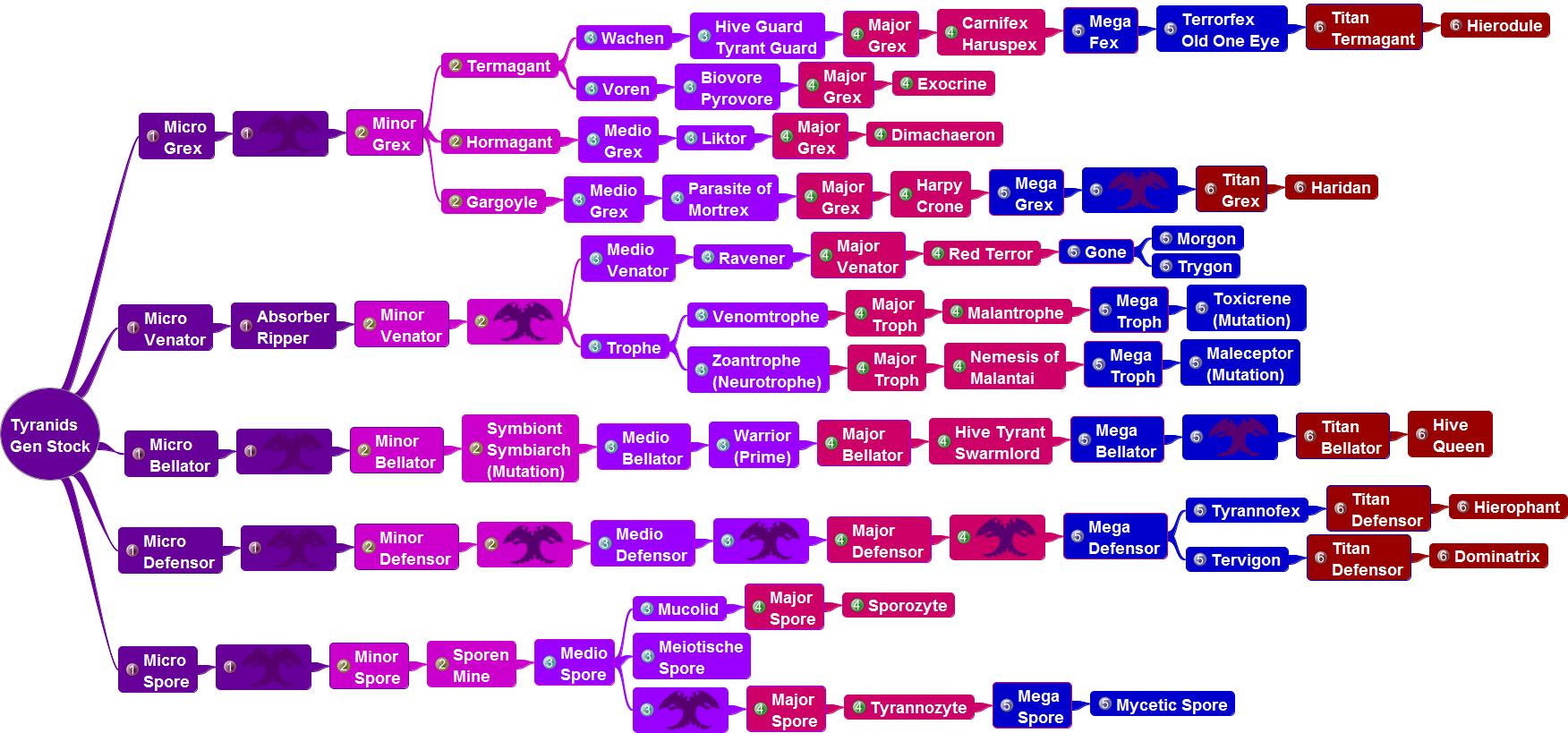 [Open in new window]
What do you think? Would you agree with the structure, or do you have any suggestions?
Or better:
What reports would you like to add to the Magos Biologis Report? You can give suggestions or give whole fluff texts I will add them to a compilation.